Books
The Science of Human Intelligence (2nd ed) – edited by Richard J. Haier, Roberto Colom, and Earl Hunt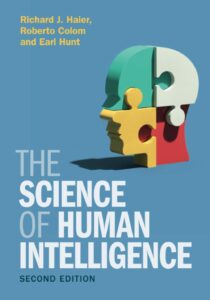 In this revised and updated edition of Hunt's classic textbook, Human Intelligence, two research experts explain how key scientific studies have revealed exciting information about what intelligence is, where it comes from, why there are individual differences, and what the prospects are for enhancing it. The topics are chosen based on the weight of evidence, allowing readers to evaluate what ideas and theories the data support. Topics include IQ testing, mental processes, brain imaging, genetics, population differences, sex, aging, and likely prospects for enhancing intelligence based on current scientific evidence. Readers will confront ethical issues raised by research data and learn how scientists pursue answers to basic and socially relevant questions about why intelligence is important in everyday life. Many of the answers will be surprising and stimulate readers to think constructively about their own views.
Click HERE to purchase.
---
The Cambridge Handbook of Intelligence and Cognitive Neuroscience – Aaron K. Barbey, Sherif Karama, Richard J. Haier (editors)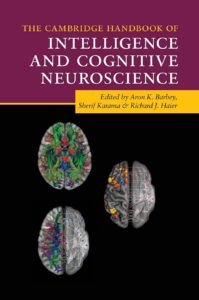 This handbook introduces the reader to the thought-provoking research on the neural foundations of human intelligence. Written for undergraduate or graduate students, practitioners, and researchers in psychology, cognitive neuroscience, and related fields, the chapters summarize research emerging from the rapidly developing neuroscience literature on human intelligence. The volume focusses on theoretical innovation and recent advances in the measurement, modelling, and characterization of the neurobiology of intelligence differences, especially from brain imaging studies. It summarizes fundamental issues in the characterization and measurement of general intelligence, and surveys multidisciplinary research consortia and large-scale data repositories for the study of general intelligence. A systematic review of neuroimaging methods for studying intelligence is provided, including structural and diffusion-weighted MRI techniques, functional MRI methods, and spectroscopic imaging of metabolic markers of intelligence.
Click HERE to purchase.
---
The Neuroscience of Intelligence (2nd ed) – by Richard J. Haier
This new edition provides an accessible guide to advances in neuroscience research and what they reveal about intelligence. Compelling evidence shows that genetics plays a major role as intelligence develops from childhood, and that intelligence test scores correspond strongly to specific features of the brain assessed with neuroimaging. In detailed yet understandable language, Richard J. Haier explains cutting-edge techniques based on DNA and imaging of brain connectivity and function. He dispels common misconceptions – such as the belief that IQ tests are biased or meaningless. Readers will learn about the real possibility of dramatically enhancing intelligence and the positive implications this could have for education and social policy. The text also explores potential controversies surrounding neuro-poverty, neuro-socioeconomic status, and the morality of enhancing intelligence for everyone.
Click HERE to purchase.
---
Intelligence: A Very Short Introduction (2nd ed) – by Ian J. Deary OBE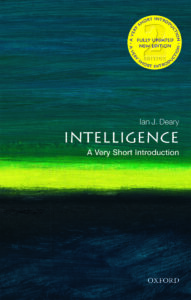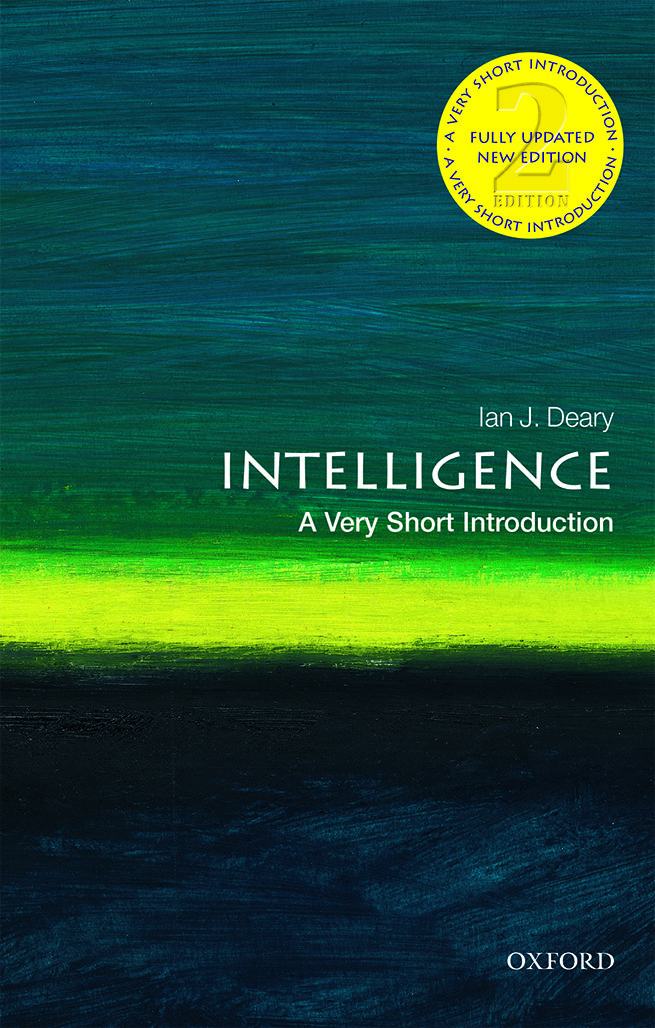 Ian J. Deary is Professor of Differential Psychology at the University of Edinburgh.  In his Second Edition of his book on intelligence he describes what psychologists have discovered about how and why people differ in their thinking powers. It includes a new chapter on sex difference in intelligence and considers the new field of cognitive epidemiology, which draws links between intelligence and better health, less illness, and longer life.  This 2nd edition also includes new work on DNA testing and intelligence genetics and is part of the Oxford University Press Very Short Introductions series – over ten million copies sold worldwide.
Click HERE to purchase.
---
Intelligence: All that matters – by Stuart J. Ritchie

The scientific evidence is clear: IQ tests are extraordinarily useful. IQ scores are related to a huge variety of important life outcomes like educational success, income, and even life expectancy, and biological studies have shown they are genetically influenced and linked to measures of the brain. Studies of intelligence and IQ are regularly published in the world's top scientific journals. This book will offer an entertaining introduction to the state of the art in intelligence and IQ, and will show how we have arrived at what we know from a century's research. It will engage head-on with many of the criticisms of IQ testing by describing the latest high-quality scientific research, but will not be a simple point-by-point rebuttal: it will make a positive case for IQ research, focusing on the potential benefits for society that a better understanding of intelligence can bring.
Click HERE to purchase.