Registration
Welcome to conference registration for the 23rd annual meeting of the International Society for Intelligence Research, which will be held at the lovely Shattuck Plaza Hotel in Berkeley, California. The conference will be held from Thursday, July 27th to Saturday, July 29th at the hotel, with a special welcome reception on the evening of Wednesday, July 26th. Please click the flyer to the right for a selection of conference highlights.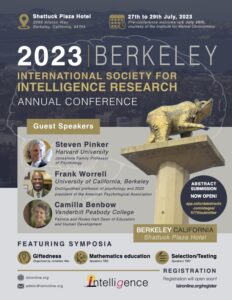 Pricing: You must be a member of ISIR to be eligible for discounted conference registration. Please purchase a membership or log in before completing conference registration! Accompanying partner rate is $100 USD; please choose the appropriate option if you wish to bring a partner.
Abstract submissions are now open via Oxford Abstracts. Submit your abstract here: https://app.oxfordabstracts.com/stages/5775/submitter 
The deadline for submissions has been extended to May 14, 2023, with acceptances planned to be sent out by May 21. We accept both oral presentations and posters.