2015 Lifetime Achievement Award: John Loehlin
The Lifetime Achievement Award is ISIR's highest honor, reserved for individuals who have, over their professional lifetime, substantially advanced the field of intelligence.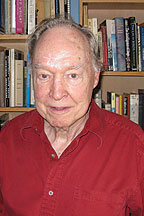 The 2015 awardee was Professor John Loehlin. Professor Loehlin has contributed  to statistics (he has a multi-edition book on structural equation modeling), computational modeling (he wrote some of the earliest simulations in psychology, twin research – he still publishes actively in this field, and, of course in intelligence. He assembled one of the first large twin studies, and over decades now, has contributed some of the most innovative, rigorous, courageous, and poetic work in differential psychology.
---