2022 Conference Registration Now Open!
Conference registration is now open—click here to register. Registration will close on July 20, 2022.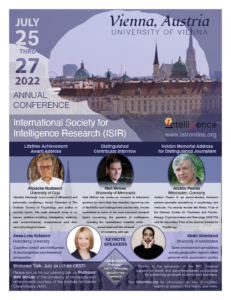 You will need to have an account on our new membership platform before registering. If you haven't yet set up your account, you can do so here.
The deadline for abstract submission has been extended to April 22, 2022. Please submit your abstract if you haven't yet done so. Travel support is available for presenting graduate students and postdocs courtesy of the Institute for Mental Chronometry (IMC).
Our program for the 2022 meeting of the International Society for Intelligence Research in Vienna is shaping up to be superb, with some new voices and some familiar ones. See the flyer for some program highlights, including information about this year's awardees for the Lifetime Achievement Award, Distinguished Contributor Interview, and the Holden Memorial Address for Distinguished Journalism.
Matt McGue of the University of Minnesota will be providing a special Welcome Talk titled Without merit: The costs and benefits of an imperfect system on July 24th at 17:00 CEST, along with drinks and canapé courtesy of the IMC. We also have two exciting keynote speakers. Anna-Lena Schubert of Heidelberg University will be speaking on Cognitive control and intelligence: A neurocognitive psychometrics perspective, and Abdel Abdellaoui of the University of Amsterdam will discuss Gene-environment correlations across geographic regions affect genome-wide association studies.
We welcome you warmly and are looking forward to seeing you in Vienna after a long hiatus.
---