ISIR 2023 Berkeley: Abstract submission now open
Abstract submissions are now open via Oxford Abstracts for the 23rd annual meeting of the International Society for Intelligence Research, which will be held at the lovely Shattuck Plaza Hotel in Berkeley, California.
SUBMIT YOUR ABSTRACT HERE
Or enter this url into your web browser: https://app.oxfordabstracts.com/stages/5775/submitter 
The conference will be held from Thursday, July 27th to Saturday, July 29th at the hotel, with a special welcome reception on the evening of Wednesday, July 26th. Further information and updates will be made available on isironline.org as they arise. The deadline for submissions is May 14, 2023, with acceptances planned to be sent out by May 21. We accept both oral presentations and posters.
Travel support
We are pleased to announce that enrolled Ph.D. students and postdoctoral researchers who have either an oral presentation or a poster accepted for the conference (as a presenting senior author) may be eligible for travel support, thanks to the generosity of the Institute of Mental Chronometry. Reimbursement will be available for documented transportation, lodging & meal expenses of up to $1,000 USD for travel within the United States or up to $1,500 USD for travel for all others. 
For students and postdocs with an accepted poster or talk, an additional $200 will added to your travel support so you can arrive a day early to enjoy the pre-conference event on July 26th, featuring talks by Steven Pinker and Frank Worrell.
Conference registration will open soon. Stay tuned!
For a sampling of 2023 conference highlights, see the attached flyer. Please share with your intelligence-curious friends and colleagues, and let them know that they are very welcomed to attend.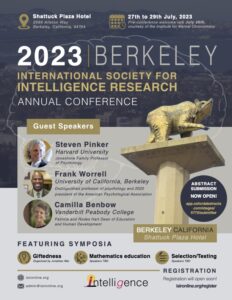 ---